Read what our great customers have to say about Bugling Bull Game Calls
Over the course of one hour the wolf and I howled at each other across the canyon until the wolf finally decided to come check me out.The howler worked perfect as the wolf traveled from 1500 yards away to within 20 yards.It was an incredible hunt and you make a great product.
I only use products that work for me. Rocky Mountain Hunting Calls are the best, hands down. I have used then for over 10 years now and have harvested a bull every year. Can you say that with your calls?
Here are a few pics of the WYOMING MEDICINE BOW BULLS that we took this year. I attached my brother Mark's bull as well. We had a great trip and called in BOTH bulls with the TEMPTRESS.
Hunting the rugged mountains of Montana paid off yet again thanks to Bugling Bull Game Calls!  The combination of the Bully Bull tube, Mellow Yellow Momma, and Raging Bull palate plate diaphragms lured this big guy in to 28 yards.  Thank you for the great products as always!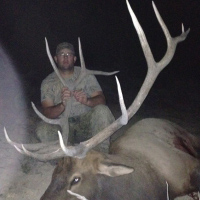 After over 80 miles hiked, and 20 days afield we found this bull next to the road. We drove past him and his 25 cows, hid the truck, slipped back up within 100 yds, and called him and all his cows in with cow calls on the raging bull single reed. I have permanently switched to bugling bull reeds. Scored 330 3/8.
A few months ago I purchased your wolf pack calling system knowing I wanted to hunt wolves up here in Montana after the big game season was over. To make a long story short, after cutting fresh wolf tracks this morning I hiked up high on a ridge to glass, where I tried your call for the first time…..ever. Within 30 seconds the pack answered me from about a mile up the mountain. I hiked up the mountain into the area I heard them, which was about 150 yards from the thick timber. I set up a second time, and after the second call with no responses, the pack came running out of the timber headed directly at me, with the big black alpha male leading the way. I stopped him with a cow chirp and shot him at 108 yards. The howler worked great!
Can't see the call in the pic. Used the reed, Mellow Yellow Mama.  Cow called this guy into 35yds and a cow into 5 yds.  I own Rocky mountain Packs Systems, work a lot with Nick Hopkins. I have the call on my pack in the pic but it didnt show up, not even the pack.  Oh well, all good. Feel free to post on our page anytime.  Great calls, love how easy the reeds are to cow call with.  2012 bull, DIY Idaho.  Rough scored 332.  
In the spring of 2011 I emailed you complimenting your elk calls and how impressed I was with them as well as appreciating your help in finding me the right one for the bugling contest that was soon to come that day at the Montana Bowhunters Convention in Kalispell. You answered me back and asked that I send you pictures of my kills from that following fall.  Well last year ended in defeat by missing one hell of a bull and just not having much any luck in the whitetail category either. You see I'm the guy that takes a bow out over a rifle 9 times out of 10 during rifle season and if I don't harvest, well there is always next year.  This year was my redemption to say the slightest.  I shot my first bull elk ever on September 23rd and on the 29th (the following Saturday) I shot and killed a dandy whitetail scoring 153 5/8.  Being in college and working full time in between classes is tough.  Add hunting into the mix of all that on top of late nights studying, well that's a challenge I don't shy away from. I hope you and your staff have a safe and successful year of hunting.
I just wanted to thank bugling bull for convincing me to change to their product at Edmonton hunt fest!! I was able to bring in this public land general tag elk!! I will be competing in the Canadian elk calling championships and will be using bugling bull calls. Most people around were complaining that they were not getting elk to talk, thanks to bugling bull, I didn't have that problem! Thanks again!
Hello my name is Josh Fields and I live the Flathead valley here in Montana.  I just attended your bugling/wolf seminar at the Flaming Arrow in Kalispell which was great.  To make a long story short….I arrowed a Wolf!!!  This is the first Wolf taken in Montana this year and only the 3rd taken with a bow in the last to years.  I think think it may be the only the 3rd wolf taken with a bow ever in Montana.  I was elk hunting in the Northfork drainage for elk 09/05/2012.  I started cow calling with my Mellow Yellow Momma mouth reed starting soft and then working it louder.  All of the sudden I see this wolf come running in from about 60 yards!  So I came to full draw and got ready for a shot.  I cow called again and he slowed down for a shot and I let him have it!!!  Just then I look up on the hill and here is another wolf, a black one staring at me.  We made eye contact and that wolf took off.  I couldn't believe how fast that wolf came running in!!!  That day I saw 3 Grizzly Bears and 2 Wolves…uggggghhhh.  Just wanted to pass this on along to you and hopefully put a smile on your face!  Thanks Rocky!
I was just going to send in a photo to you of an elk I took on the westside of WA.  After many years of perseverance I was finally able to seal the deal after many close calls.  I was using one of your mouth reeds as well as your grunt tube, although it is probably 5 years old.  Anyway the first year I was getting into calling you took some time with me at an outdoors show in Puyallup maybe 6 or 7 years ago and I just wanted to say thanks for the encouragement, you seemed like a really down to earth genuinely good guy.  Thanks Rockie!  Good Luck hunting this year!
Another big Montana bull down using the new Temptress and Allstar calls. 370 class before being busted up a bit.
This is my first year bow hunting and the first elk I've ever taken! Thanks to my Mellow Yellow Mama, and many nights alone at work watching Rockie Jacobsen's videos on YouTube, I coaxed this Wyoming bull from a neighboring ranch onto state land where I shot him at 47 yards! Thank you for making awesome products!
Hi Rockie, here is a picture of my hunting partner Silvio Modena with his September 21, 2011 North Idaho bull. We called him in from almost a half mile away. thanks for all your help over the years and for making such great calls
I just wanted to give Rockie a BIG thumbs up for building the best bugle around! I have used many and this one is the most easiest and realalistic sounding bugle on the planet! I called in over a dozen bulls in four days and took this guy on day five! With the combination of Bugling Bull calls and Trophy Blend Scents, you will for sure have a great time, and will never forget.
We had an epic day of elk action yesterday, saw some BIG bulls & almost killed one of them but when we got this guy to come by at 8 yards it was irresistibull!!! Thanks for some great calls!!!
Hunting was rough in Colorado as well…no water and no rut activity. I managed to find one that was bugling on the last day and got him packed back to the truck right at dark!